FriedlNews Study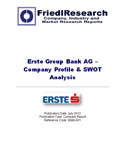 Article Tools
Sberbank to Provide € 300m for VBI
Published: July 13, 2012; 19:19 · (FriedlNews)
The Russian Sberbank intends to inject € 300m into the Austrian VBI (Volksbank International). Growth into the CEE region should be promoted.
The Russian news agency Ria Novosit reported that Sberbank plans a capital increase at VBI. This should help Sberbank to develop VBI´s business in Central and Eastern Europe. The funds should be allocated to different subsidiaries of VBI. Above all, a capital increase at the Slovenian subsidiary of VBI is planned.
The entry into the commercial segment has already been announced several weeks ago. VBI should become a universal bank. VBI Group should act as headquarters for Central and Eastern Europe. Moreover, lending to commercial customers will be initiated soon. In addition, VBI intends to develop deposit business too. VBI stated to file for a universal bank license in Austria soon. Until now, VBI only had a limited bank license.
By the end of 2012, the number of employees should increase to 150. At the moment, VBI operates 295 branches in the CEE region. Total assets amount to € 10bn. Within the next half year, Sberbank will initiate a re-branding of VBI.
The Vienna-based Volksbank International AG (VBI) manages a bank network in 8 Central and Eastern European countries: Slovakia, Czech Republic, Hungary, Slovenia, Croatia, Bosnia-Herzegovina (VB BH, VB Banja Luka), Serbia and, since January 2007, the Ukraine. Since February, the Vienna-based VBI is wholly-owned by Russian Sberbank. The Austrian financially stricken VBAG had to sell VBI after a series of loss-making years in Eastern Europe. VBI Romania is still owned by VBAG.The sale price was € 505m.
Last year, Sberbank generated a net income of € 4.6bn. In 2011, VBI had to register impairment losses of € 158.6m. In Hungary, the write-offs came at € 112m. The net income totalled € -160.4m. After dissolving reserves, the net loss amounted to € 95.47m. As a result, the last full financial year during VBAG´s ownership was deep in the red. In 2010, VBI registered a positive net income of € 15.1m.