FriedlNews Study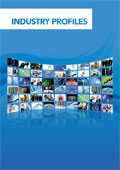 Article Tools
Montana Tech Components Achieves Record Results
Published: June 16, 2012; 11:32 · (FriedlNews)
The Swiss-based MTC Group could reach a new record in revenues and earnings.
In total, revenues of MTC group grew to € 106m in the first quarter of 2012. In the first quarter of 2012, revenues came at € 101m. Above all, the energy storage and the aerospace segment showed strong growth rates.
EBITDA increased by 41% to € 18m. As a result, the EBITDA margin was 16.9%. EBIT was up by 60% to € 14m, the EBIT margin reached 12.8%. Total assets amounted to € 475m. MTC´s equity quota amounted to 49% after 48% in the reference period.
For the rest of 2012, MTC expects a positive development in the growth segments energy storage, aerospace, industrial components and metallurgy. In general, revenues and earnings are predicted to increase further. At the end oft he third quarter, MTC Group employed 2,891 persons (after 2,808 in the reference period). MTC is partly owned by the Austrian investor Michael Tojner.