FriedlNews Study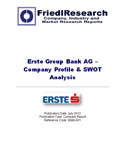 Article Tools
Hungary: Erste Group Expands
Published: August 9, 2012; 17:07 · (FriedlNews)
The Austria major bank purchases the private banking segment of BNP Paribas in Hungary.
Despite the challenging market environment, Erste Group expands in Hungary. After the acquisition of BNP Paribas´ private banking segment, Erste Group´s market share reaches 12%. Before, Erste Group had a market share of 9%. In Hungary, BNP Paribas managed assets of € 216m and served 400 clients. The deal has to be approved by the Hungarian financial market authority.
In 2011, Erste Group recorded a loss of € 567m in Hungary. In the first six months of 2012, losses reached € 73m. In the past, Erste Group reaffirmed not to withdraw from Hungary.
At the moment, Erste Group´s private banking segment in Hungary serves 1,800 customers. In total, assets under management reach € 13.5bn. Erste Group operates its private banking business in Austria, Croatia, Slovakia, Romania and the Czech Republic.