FriedlNews Study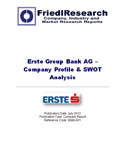 Article Tools
Austria Tabak Loses Market Shares
Published: April 6, 2012; 14:59 · (FriedlNews)
The U.S. group Philip Morris is the clear market leader in Austria´s tobacco market.
Austria Tabak, owned by Japan Tobacco International (JTI) lost market shares last year again. This is the result of a market study created by the research institute AC Nielsen. With a market share of 35.9%, the main rival Philip Morris is now number one in Austria´s tobacco market. Last year, the market share was 35.4%. Austria Tabak lost 1.4 percentage points and now has a share of 33.1%.
BAT (British American Tobacco) recorded a strong market growth and raised its market share from 9.3% to 10.3%. The British producer Imperial Tobacco stagnates at 17.5%.
Until 2008, Austria Tabak was the clear number one in Austria´s tobacco market. Since 2009, Philip Morris and Austria Tabak showed almost equal market shares. In 2010, Philip Morris overran Austria Tabak for the first time.
In 2011, JTI closed the last tobacco factory in Austria and moved to Romania and Poland. Already before, other tobacco sites closed in Styria, Tyrol and Upper Austria.